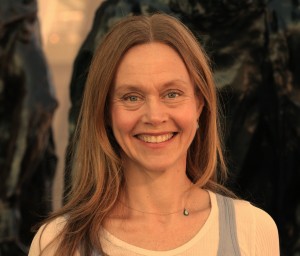 I knew I wanted to be a dancer from the time I was 10, shortly after beginning formal ballet training. At 14, I was awarded scholarships to American Ballet Theater and Joffrey Ballet in New York. The choice of ABT seemed an ideal opportunity to develop my technique and live in the stories classical ballet offered. Within four years, however, striving for perfection day in and day out had alienated me from the reason I fell in love with dance in the first place – the desire to express a personal or given narrative to music.
The decision to leave classical ballet opened up my life. New opportunities to dance, improvise, choreograph and teach followed, and brought me closer to what has become my life's work: helping people to live with more ease and express themselves more freely and authentically.
My passion is to enable individuals to access their stories whether they are sharing them publicly or privately, in their music or their painting, or bringing to life another's story on stage as theater. I know from my own struggles in bringing life to a role, how habit and emotion can constrict one's body and voice. My goal is to meet students wherever they are and empower them to appreciate themselves unadorned by habit of imitation, constraint, or excess effort, and to enable them to skillfully re-create this freedom on their own.
I first encountered the Alexander Technique while working in sports medicine and preparing to study physical therapy.  Through lessons, I gained insight into my own habits and how they often constricted my movement, breathing and vocal expression. A few months later, I began training at the American Center of Alexander Technique.
I have been teaching the Alexander Technique in private practice as well as at various drama schools in New York since 1995. In my private practice, I work with students whose pain is limiting them, as well as with those who simply want to improve how they perform activities that are part of their lives. Students can apply the Alexander Technique principles to any activity: playing an instrument, working at the computer, performing domestic tasks, playing sports and other physical practices. It is in taking the lesson onward into their lives through practice that a student begins to experience the benefit of applying their new knowledge and moving toward their potential.
As a practitioner of the technique I have recovered from bone surgery on both feet and knees, and – with the help of innovative work provided by movement teachers and other AT teachers – I am living an unrestricted life.  I have learned a great deal about what it means to live an active life as the body changes over time.
A teaching objective of mine is that each student enlivens desire to change: to develop their skill at integrating the Alexander principles into all activities. This often includes bringing people a sense of well being and recognition of self, whether walking down the street, interacting in their professional lives, or performing.
I can't remember a single confusing moment over the course of my studying with Teva that was injected by a contradiction in her person.  Sure, I experienced numerous confusing moments in my attempts to grasp the depth of the concepts she presented and have them find a place in my experience, but she always arrived and left the teaching space as an embodiment of the principles she was imparting. Her sincerity was a living and breathing thing.  Her personal poise was a beacon to all that she was teaching.
– Christopher L. Browne, actor

The Gift of Interrelated Movement:  My discovery under Teva's stimulating care was that the obvious remains startlingly true: body, mind and spirit are one.  Without getting into religion, it is exciting to understand that the interconnection amongst all three offers a healthy interchange of energy.  Most of us take our bodies for granted, not knowing how they are organized, unless something goes wrong.  In my case the debilitating and enforced leisure of hospital care caused havoc with my ability to coordinate locomotion and utilize balance.  It became clear that movement must be a part of everyday life.   How the various structures normally interact with one another must be learned anew after such a period of surgery and healing.
Martha Graham used this phrase when teaching dance: "the memory of the blood".  Teva's lessons gave me renewed respect for how my body and thought can work together to produce the harmony that makes mobility possible.   It's a process that never ends, but makes each day a discovery for which I am profoundly grateful.  I shall intend to keep it up!
-HUGH HARDY, architect
Click here to see my Professional Developments and Performance Highlights.